mhotspot is a free-software(with-out installation)that converts any LAPTOP(and also PC with wifi network adapter) running windows OS into a virtual wifi hotspot and lets you share your internet through wifi to other laptops, smartphones,PDA's,Tablet-PCs or any other wifi devices.
What does mHotspot do ?
1.    Creates the wifi hotspot in two steps (enter hotspot name & password, choose an internet connection to share).
2.    Up to 10 devices can be connected to the hotspot.
3.    You can set the no. of devices that are allowed to connect to the hotspot.
4.    Even the ANDROID and SMART PHONES without any further modifications into them, can access the wifi internet.
5.    See the details of the connected devices(ip address, device name, mac address).
6.    Share any type of internet connection ( LAN, Data Card. 3G/4G, Wifi).
7.    Extend your wifi range( Acts as a repeater).
8.    Secures the wifi hotspot with WPA2-PSK password encryption.
See the video below :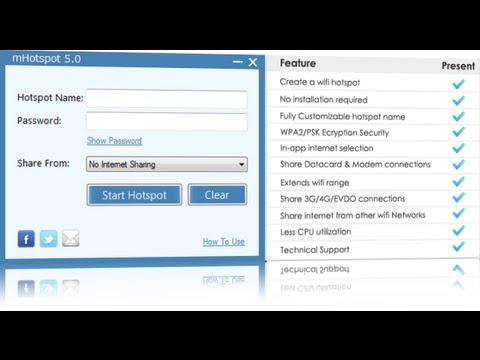 It has already clocked 550,000 downloads. Try installing this software and let us know  your feedback in the comments section.