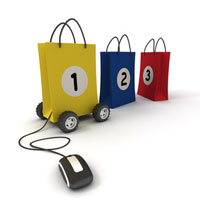 A recent study by Assocham and ComScore revealed that India is among the fastest growing online markets in the world and has registered a 41% growth in the last 12 months. According to the report, the total internet user base in India (inclusive of shared devices and mobile) is at 124 million users in the month of July 2012. 1 out of every 10 Indians are online making it a 10% online user penetration in India.
The study found that, non 15+age, home and work usage has been high in India with close to 50% user base accessing internet through shared devices and mobile. The time spent has increased by 33% with the user base spending 48 billion minutes online in a month. The consumption of content online has grown to 70 billion pages a month from 54.6 billion in July 2011.
With 75% of online audience between the age group of 15-34 years, India is one of the youngest online demographic globally. This age group has been the fastest growing age segment online with user growth being contributed by both male and female segments. The top 5 popular categories accessed online are social networking, portals, search, entertainment and news sites.
The study found that among the BRIC Nations, India has been the fastest growing market adding over 18 million internet users and growing at an annual rate of 41%. India is also among the top 3 fastest growing markets worldwide in the last 12 months.
According to the report, ecommerce in both travel and retail segments have grown faster than several other categories in India.  Online Travel in India is at 44% penetration and has grown over 41% from last year. Retail has grown 43% and reaches 60% penetration among online users, but is still below world
averages.
Indian Railways is also among the most visited sites in India with over 12 million unique visitors a month. MakeMyTrip, Yatra and Cleartrip individually reach over 11.6%, 8.3% and 3% of total online users respectively.
Amazon is the most visited retail site with most of the traffic split among Amazon.com, ImDB and Junglee.com. Flipkart leads the way among the online retailers in India with 7.4 million unique visitors a month, growing at 431% annually. Snapdeal has been close second with 6.9 million uniques. Jabong and Myntra have been competing closely in the lifestlye category with over 5.3 million uniques each. HomeShop18 has over 4 million unique visitors a month.
Apparel has been the fastest growing subcategory in retail and reaches 13.4% online users in India.The report found that comparison shopping sites have shown a growth over 75% Y-o-Y and will continue to grow as more categories of retail come online. Consumer goods, sports/outdoor products and retail food sub categories have also shown early growth signs. Vertical e-Commerce categories including baby products, apparel, shoes and other lifestyle categories have also shown tremendous growth.
According to the study, the average transaction size online in India across both travel and retail category is USD 31 between April-June 2012. This amount is expected to increase with consumer confidence in buying high priced products in the coming months.
The study further found that among the payment types, American Express has the highest average bill value per transaction at USD 110 followed by Visa and MasterCard. The average direct debit transactions is low compared to COD average values as most of these transactions come from IRCTC. State Bank of India is the most popular direct debit option among train ticket buyers which ICICI and HDFC contributing to over 17% and 14% respectively.