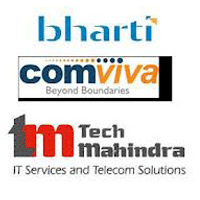 Tech Mahindra has acquired a 51% stake in Bharti Group-owned mobile value-added services (VAS) provider Comviva Technologies for Rs 260 crore. Bharti Group will continue to hold a 20% equity ownership in the new entity called Mahindra Comviva. Tech Mahindra will make an upfront payment of Rs 125 crore, with the balance to be paid over five years depending on Comviva meeting mutually agreed performance milestones.
CP Gurnani, MD, Tech Mahindra, said, "This acquisition marks our strong intent and entry into the world of mobility products. We are adding significant capability in areas such as payments and VAS."
Comviva, which counts Vodafone, Idea, NTT Docomo, Aircel and Samsung Electronics among its clients, have its solutions deployed in over 130 telcos and banks across 90 countries across Asia, Africa, Middle East, Latin America and Europe. Commenting on this acquisition, Rakesh Bharti Mittal, Chairman of Comviva said," Tech Mahindra, with its deep domain expertise in IT and telecom technologies, is an ideal partner to guide the future growth story of Comviva."
Earlier known has Bharti Telesoft, Comviva was about 50% owned by the Bharti Group, which also owns India's largest mobile operator Bharti AirtelBSE 1.25 %. Sequoia Capital and Cisco held 30% and 5% stake, respectively, in the company with the balance 15% owned by employees.Tech Mahindra, which counts BT, AT&T, Hutchison as large clients, owns another mobile VAS company in Noida called CanvasM.