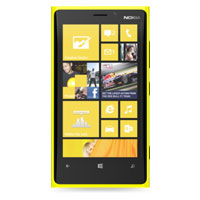 On Wednesday, Nokia launched the next generation of devices in its Lumia series-the Lumia 920 and 820 smartphones. Nokia Lumia 920 is the company's first ever smartphone powered by Windows Phone 8 OS.  Some of its key features are:
a Quad-Core 1.5 Ghz Snapdragon S4 processor with 1 GB RAM and 7 GB of SkyDrive built-in storage
4.5 inch high resolution display
8.7 megapixels PureView Camera that supports 1080p camcorder video recording
a Battery capacity of 2000  mAh that gives 10 h maximum 3G talk time; 400 h Maximum 3G standby time; 67 h Maximum music playback time; 6 h Maximum video
Available in five vibrant colours, it has a one-piece polycarbonate body, and ceramic zirconium camera detailing and side keys.  The feature called 'Nokia City Lens' identifies city blocks through the camera lens and overlays information on location and establishments. It also features a 'floating-lens' optical image stabilization technology, that allows users to click sharp and crisp images in the dark.  With 'Skydrive', users can sync their laptop and tablet to access all their files from anywhere. Through Nokia Music , users can stream and download unlimited music for free.
It also features a in-built wireless charging feature, that allows you to charge your Lumia device by simply placing it on a wireless charger. The Nokia energy-efficient wireless chargers come in all shapes, sizes and colours.