Just Dial, a local search provider has received a funding of R.327 crore from existing private equity investors Sequoia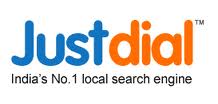 Capital and SAP Ventures.  It will be utilizing this funding to expand and upgrade technology. While Sequoia Capital brought in Rs 305 crore, SAP Ventures invested Rs 22 crore in the latest round of funding. Sequoia Capital now owns 19% in Just Dial.
Sequoia Capital is an early investor in companies such as Apple, Google and Cisco. During the past decade, Sequoia Capital has invested in more than 50 companies in India. Commenting on this funding, Shailendra Singh, MD Sequoia Capital said,"We believe Just Dial enjoys an unassailable market position in local search, developed through many years".
Just Dial was founded in the year 1996 with an investment of Rs. 50,000. It is India's best known local search provider, using the internet, phone, WAP and text messages. Though it began as a telephone-based service, over 60% of its queries originate from internet and mobile.