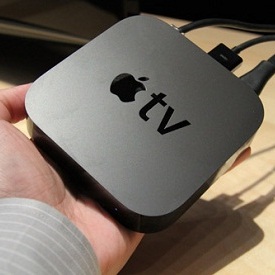 Apple announced a new version of its Apple TV set top box Wednesday at an event in San Francisco where the company is unveiling a new version of its iPad tablet computer.
Still no sign of the long-rumored Apple TV set, however.
Apple's new set top box will get an updated user interface; play 1080p video; and hook into Apple's iCloud suite of services. So photos taken with an iPhone, for example, will now show up on the set top box, via iCloud's Photostream feature, and movies and TV shows purchased on an Apple TV will be available on other iCloud connected devices.
Link : Apple TV