MyDeals247.com claims to be the world's first personalized social E-commerce platform.
MyDeals247 offers three unique business models:
 #1. Buy / Sell Model – No inventory on the website – everything starts from the consumer interest – system notifies the consumer requests to all the sellers whoever selling the particular product or service along with the consumer's budget – sellers make offers against the consumer request along with the offer expiry times – system picks only the top 5 best offers (by lowest price) – totally real-time and rank order changes based on the offers received by the sellers – consumers takes advantage of the best offer and purchase the same.
 #2. Volume Based Discounts – deals with only 5 star rated retailers – focus on general house-hold items, entertainment, education, local events, amusement parks, professional training, and services companies – consumer can share the vouchers with friends and colleagues – volume based purchase only – buy more save big!
#3. City Talks about (Unique way to consolidate local ADs) – consolidates all the local ADs (current promotions and offers) within the city – if someone is looking for the current offers from Footwear in San Francisco, system consolidates all the local ADs relevant to Footwear in the local city – displays only the relevant ADs based on consumer interest ONLY – system does not display any ADs beyond consumer's interest under "San Francisco Talks about…"
The following video shows how MyDeals247 works :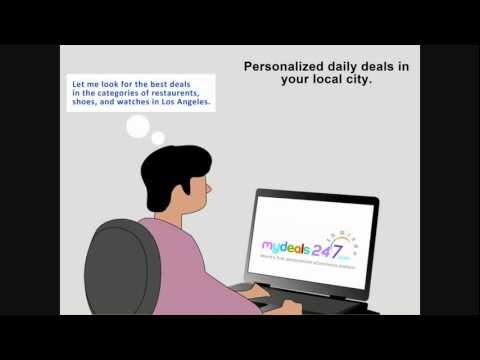 Let me know your comments on what do you think about this platform.