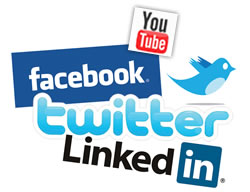 Social media world is moving to the future rapidly and we always keep ourselves on the latest track by reading blogs and news. 2012 is the 3rd year for Social Media Examiner to pick up 10 social media blogs among all nominations. The top 10 blogs were announced from a list of  top 20 shortlisted blogs  in its newsletter and also its blog.
Here are the 20 finalists  and along with them in bold are the 10 finalists -with a brief introduction (in alphabetical order):
Bundle Post: It is founded by Robert M. Caruso with passion in tech and social media. It takes the first step to automate and schedule the social media contents in one place.
Digital Brand Marketing Education: It holds continuing learning philosophy to educate empowered professionals in using digital to brand and market their businesses.
Heidi Cohen: (#7) She brings you into the world of digital and direct marketing through her established experiences so that readers can easily apply to their current social situation.
Hubze: (#4 ) Social media marketers and lovers share how to start the social media engine to engage with customers and manage social media accounts like an elite.
inBlurbs: It shows you how to get found on the internet and convert the traffic into physical customers to bring up your own brand and prospects.
Inbound Marketing Spot: It belongs to Trust eMedia and provides inbound marketing strategies to build a loyal social media community to support brands and businesses.
Jeff Korhan: He is an inspiring speaker who can help and present the closer connection between social media and small businesses to grow through internet and social media.
Jeff Bullas:(#3) The blog, which is being ranked #87 in AdAge Power 150, offers public some useful hints and advices on how to make advantage of social media tools.
Likeable Media: (#9) It purposes on leveraging social media to build up marketing castle that supports brand, value and services.
Marketing Tech blog: (#8) There are media marketing experts to analysis the current development and provide technology and marketing tips for social marketers.
Media First: A blog from a public relations agency to help clients to win new market share and grow revenues and profits with unique marketing tactics.
Media Tapper: The purpose is to discuss day-to-day developments in the social and online media world and share the piece of information globally.
My Social Agency: Provide a series of expert advices and solutions in social media management to keep in touch with the current racing world pace.
Pushing Social: (#6) It tells you to do what to publicize and market around through Stanford Smith's words. He is an online marketing strategist who loves amplifying social tools.
Sales Lion: (#5) Read "Why Subscribe" in its site and realize that it is an experience sharing and writing to help people who are involved in sales hardcore and marketing mistakes.
Social Mouths ( #1) : "I help people be successful online" brings readers to meet Francisco Rosales who determines to help every potential reader creating their brand and expertise.
Social Strand Media: Provide marketing solutions, from social media to marketing campaigns, at free consultation to accelerate your brand beyond the borders.
Spiderworking: Teaching small to medium business how to promote brand and drag online traffic using social media, Amamda Webb shares her knowledge after her first business, Feelgood Organic Hampers.
Splash Media: (#10) Contains opinion and analysis from a group of social media, marketing and video professionals. Specifically tailor solution and monitor progress for their clients.
ViralBlog  ( #2): Ranked #71 in the AdAge Power 150 as well as collects the daily viral and social media cases over the global, in order to inspire people and create the best social strategies.