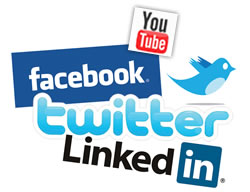 If you love spending time on Facebook or Twitter, you may soon land a plum job. Companies are planning to take on board social media specialists as they tap the platform to launch products, undertake consumer research and interact with customers.
Genpact recently acquired a media research firm, EmPower Research in the US, where 75% of the 360 employees are working in the social media space. Marketers like the UB Group, LG Electronics, Canon and Future Group too are forming dedicated social media teams and hiring aggressively.
Nearly 10,000 jobs for social media specialists will be created in India by 2012, according to Ma Foi estimates. In the West, hiring of social media specialists has matured over the past two to three years. America's largest airline, Southwest Airlines has a chief Twitter officer who tracks Twitter comments and monitors a Facebook group.
Computer maker Dell made headlines last December when it launched the Social Media Listening Command Center in the US where it monitors more than 22,000 Dell-related topic posts in social media sites. The Centre has a dedicated team of more than 5,000 social media specialists who track the company, engage with consumers and even undertake customer service. And now, Dell plans to expand such centres.
In India, the demand is hotting up. While a few specialised social media marketing firms have come up over the past few years, corporates have started to hire such specialists to beef up their internal strengths. Liquor major UB Group, whose Kingfisher page in Facebook has the second largest global following in the beer segment, has poached digital media experts from Yahoo India and other Indian websites to form a dedicated social media team.
B-schools like the IIMs and ISB are warming up to the market demand by drafting courses on social media. ISB Hyderabad, for instance, has partnered with web product company Directi to roll out an elective, while NIIT Imperia has started an advanced programme in social media marketing.