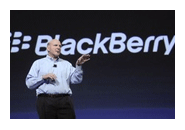 According to data from Drippler, a self-described gadget news aggregator, only 25 percent of BlackBerry owners have another BlackBerry on their smartphone wish list. The other 75 percent want out of the RIM ecosystem and most of them want either an Android device or iPhone.
Drippler tapped into its database of information regarding what phones users currently possess and which phone they are looking to buy next. With over one million users and 600,000 Android app downloads, Drippler can get a pretty decent idea of the general consensus of smartphone users.
Oh, RIM. Just when a light was starting to shine at the end of its very dark tunnel, we're slammed with this report. RIM has made one mistake after another in the past year or so — employees have even seemingly attempted to drink their problems away. RIM debuted BlackBerry OS 7.1 at CES 2012 and is expected to unveil a promising new update for the BlackBerry PlayBook at Mobile World Congress, so the company is clearly banking on a turnaround this year.