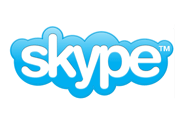 Facebook and Google Inc are separately considering either buying the company or forming a joint venture with Skype after the web video conferencing service delayed its initial public offering, two sources with direct knowledge of the discussions told Reuters .
Facebook Chief Executive Mark Zuckerberg has been involved in internal discussions about buying Skype, according to one of the sources. Another source said Facebook had reached out to the Luxembourg-based company about forming a joint venture.
Google has also held early talks for a joint venture with Skype, the second source said.
A Skype deal could be valued at $3 billion to $4 billion, the first source said. Skype's IPO is expected to raise about $1 billion, several other sources said.
The discussions are in early stages, and it is not clear which option the companies favor, the first two sources said.